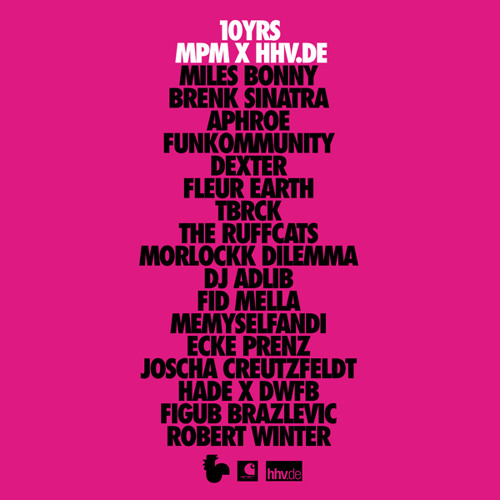 DOWNLOAD ZIP FILE ON GOOGLE DOCS HERE
MPM and HHV.DE celebrate their 10th birthdays with two all-star shows in Cologne and Berlin . This free tape is the the warm-up party. Pump up the volume and crank the bass!

Presented by Carhartt and cosigned by Juice, Mixery Raw Deluxe, Splash Mag, Step Fwd,Kölncampus and Crazy Planet Records.
Tracklisting:

01 Ecke Prenz – On The Corner (exclusive)
02 Fid Mella – Henny (unreleased) (from the album Tatas Plottn, 05 Oct)
03 S3 (Miles Bonny & Brenk Sinatra) – Don't Stop (unreleased) (from the album Supa Soul Sh*t, 26 Oct)
04 Figub Brazlevic – Marvelous (exclusive)
05 The Ruffcats – The Baaang! (from the album The Essenc Vol. 1)
06 Funkommunity – What You Give (from the album Chequered Thoughts)
07 BrenkSinatra – One Daaay (from the album Gumbo II)
08 DJ Adlib – Bang It Out feat. Frank Nitt (from the album HHC Vol. 6: Haus & Garten)
09 TBRCK – Droptop (from the album EP#1)
10 Aaliyah – One In A Million (HADE X DWFL Edit) (exclusive)
11 Dexter – Homer Flip (from the 7″ DEX 1)
12 Morlockk Dilemma – Die Taube (from the album Circus Maximus on Spoken View Records)
13 Aphroe – Ruhrpott State Of Mind (free track)