A mini-documentary of Eliot Lipp filmed at Low End Theory in Los Angeles, CA with appearances by Gaslamp Killer, Nocando, Subtitle and Cru Jones. The video features the track "Mountain" from the upcoming album "Shark Wolf Rabbit Snake" released on Pretty Lights Music.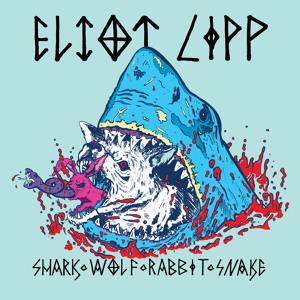 Lipp's latest album, Shark Wolf Rabbit Snake, shows his studio prowess at its peak, and his composing at its most focused. Lipp has distilled his songs down to their strongest elements and keeps them tight and sharp. With his firmly established reputation and a large body of work, Lipp says, "I don't need to announce myself anymore, or to have each track represent me fully." And that self-assurance is undeniable on his most powerful statement yet. Collectively, the songs on Shark Wolf Rabbit Snake were also inspired by the cover art from Daniel Anthony St. George. The predatory allusions in the art and the album title can certainly be found in the music, but a cartoonish sentiment leavens the intensity and there's a fair share of thoughtful "rabbit" tracks as well.
Eliot Lipp a 'Brooklyn based Electronic music producer
and analogue synthesizer enthusiast' comes out with his 14-track release available as a free download here on the Pretty Lights Music website.
Soundcloud // Twitter // Youtube
Enjoy, share, 1love.